The Billycats play upbeat, danceable swing music that draws upon country & western, blues and jazz influences. (Scroll down for more info.)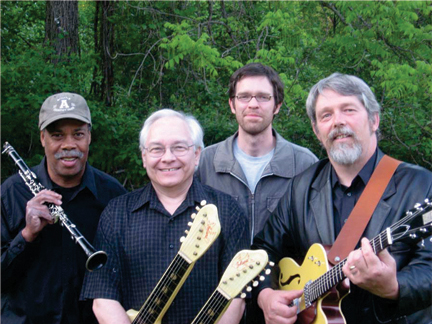 Dave Borowski sings and plays guitar. Union Hall Theater favorite Ted Harris is on woodwinds (sax, clarinet, flute) and vocals. John Borchard plays steel guitar, while bassist Bob Prebe rounds out The Billycats' ensemble sound.
Originally from Brick Town, NJ, guitarist/vocalist Dave Borowski considers southeastern Ohio his home. A working musician since 1975, he has appeared on 8 albums and CDs, done additional studio work, and performed in a variety of live venues from New York to Seattle. His strongest musical influences include Frank Sinatra, Johnny Cash, and Jon Hendricks. Bands that Borowski worked with, past and present, include Close Enough for Jazz, Aces & Eights, the Kings of Hollywood, the Wing Nuts, Dave Barrow & the Wheels, and Realbilly Jive.
From Long Island, Ted Harris has also been performing professionally since the mid-1970ís. Most of those years were spent in northern Ohio, where Ted played hundreds of club dates and dozens of recording sessions. He became a mainstay of the Cleveland area jazz and blues scene, and still performs there on occasion. Ted considers Pete Fountain, Herbie Hancock, and Stanly Turrentine to be his most important musical influences. He moved to southeastern Ohio three years ago, and made musical friends quickly. In addition to his gigs with the Billycats, Ted performs with Shirley King and R&B Station, the Athens Dixieland Band, and the Royales.
Steel guitarist John Borchard hails from Chicago, but has called southeastern Ohio his home for the last two decades. He has played guitar, lap steel, and steel guitar professionally since the mid-1960ís. His influences include Freddy King, Jimmy Vaughan, Chuck Berry, Lowell George, Speedy West and Buddy Emmons. Johnny has toured and recorded with many national and semi-national acts throughout his long career, and is one of the most sought-after session musicians in the area.
Bassist Bob Prebe is from Toledo, Ohio, where he worked in a number of bands in the 1990ís, performing live and in studio recording sessions. He now considers Athens, Ohio his home. His musical influences include Mose Allison, Charles Mingus, and Ray Brown. Bob was a member of the Roger Bailey Jazz Explosion. Now, in addition to his work with the Billycats, Bob performs with the Athens Dixieland Band.