October 10, 2008
Four months after Ribs, Rhythm & Blues, people are still talking about it. Crawlilnkingsnake, who now writes for Mountains of Blues, the 'lectric bluzletter of the West Virginia Blues Society, had this to say:
UNION HALL THEATER- One of the very best shows we were witness to this past year was in the tiny hamlet of Chesterhill, OH. The Union Hall Theater in beautiful southeastern Ohio hosted their first "Ribs, Rhythm & Blues" thing with COLIN JOHN, IZZY & CHRIS and WOODY PINES... along with some outstanding food from Lou Garrett of Cheri's Diner... and the homemade pies from Mary Louise Carpenter, Arita Rae Ellis, Terry Fleming, Robin Horner and Elma Stirgwolt were out of this world. Fact is, we were just talking about it last week during break with Colin John at The Brewery in Marietta. All agreed that sometimes everything (venue/crowd/atmosphere/moon, stars & planets/food/etc) just comes together naturally like on that day in June... yes it sho 'nuf did. The Union Hall Theater has now announced the dates for "Ribs, Rhythm & Blues" II. On Saturday June 6th 2009 if any y'all are anywhere near the area, make it a point to go to Chesterhill. Not at all hard to find from Parkersburg/Marietta. If it's anything like 2008, ya ain't gonna be disappointed.
June 10, 2008
Ribs, Rhythm & Blues on June 7th was a great success. Delicious ribs and side dishes were prepared by Lou Garrett of Cheri's Diner in Chesterhill. (Hint: Go there and try the food.) The homemade pies made by Mary Louise Carpenter, Arita Rae Ellis, Terry Fleming, Robin Horner and Elma Stirgwolt were out of this world. And the music by the Colin John Band, Izzy & Chris, and Woody Pines & The Lonesome Two (plus Ted Harris) was top notch. But don't take our word for it -- read below what Crawlinkingsnake of the Blues, Jazz & Folk Music Society of the Mid-Ohio Valley had to say about this event:
*GREAT SHOW - One of "the best" shows anywhere, anytime... that's what we were witness to this past Saturday night at the Union Hall Theater in Chesterhill, OH. We decided at the last minute to make the short drive from P-burg thru beautiful southeast Ohio to Morgan County. The Union Hall Theater … is a great venue operated by great people. The first annual Ribs, Rhythm & Blues thing would have to be considered a success if only due to the food alone... outstanding beef BBQ, beans, potato salad and of course the homemade pies! WOODY PINES & THE LONESOME 2 (actually 3) kicked it off at 6:30pm with the nearest thing to a New Awlins street band to be found anywhere near Chesterhill, OH. We were told later the addition to the Lonesome 2 on clarinet was actually a local guy (didn't get a name) [editor's note: Ted Harris] from just around the corner [Amesville]. Woody payed homage on his National guitar to Bessie Smith, Cab Calloway and others. In fact all three acts on this day have a respect to the past greats while keeping their eye on the future. Following Woody was IZZY & CHRIS who continued in the same theme with some Rev Gary Davis, Blind Willie McTell and of course Robert Johnson.… Couldn't help but notice they received lots of complements and signed quite a few copies of the new CD afterwards out in the lobby. The COLIN JOHN BAND closed out the evening with a fantastic set. Kept thinking all along how much Quincy, Spider and others would have loved this. But didn't feel too guilty, too long... there wasn't time between the great bass playing, Colin's multiple guitars and flying drum sticks! Plenty of kinlin' wood lying on the floor after this show. Loved the Albert Collins "Too Many Dirty Dishes", Elmore James "Please Find My Baby"?... and "Sunshine of Your Love/Crossroads" was a jaw droppin' great ending to a magnificent show... Can't say enough good things about this place or this event. The Union Hall Theater although nothing special in the way of ornate decorations; we've all seen fancier theaters, is still a wonderful place... and this is a great event with even greater possibililties. Keep this date in June (if ya can't make it to Chicago) on the calendar for 2009... and somebody tell us what that altimeter mounted in the corner was all about? -- Crawlinkingsnake
July 22, 2007
Check out our new Fall / Winter lineup of events!
March 21, 2007
Get ready for the re-opening of the Chesterhill Farmers' Market on Saturday, May 5th!
March 1, 2007
Union Hall Theater announces a new Sunday Afternoon Recital Series beginning on March 11th with a performance by Tsun-Hui Hung on the Erhu, a Chinese stringed instrument. This series will also include recitals by Professor Richard Syracuse, piano, Natalie Gibson, piano, and Laura Geier, violin. Click on Upcoming Events at left to learn more about these recitals.
March 1, 2007 (updated June 10, 2008)
We have had several great shows lately, including performances by Otis Crockron & Banners of Praise, The Back Porch Swing Band, and Megan Murphy & Yankee Bluegrass. Below are some photos of The Back Porch Swing Band taken by Natalie Boydston.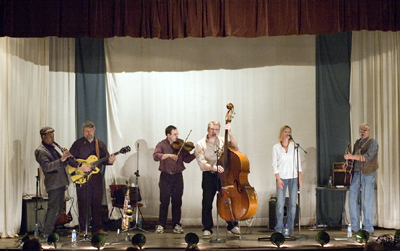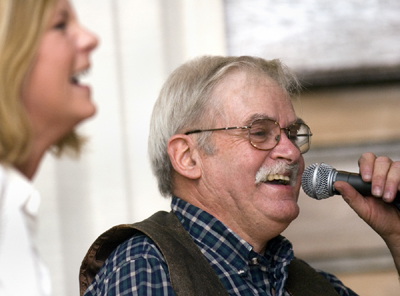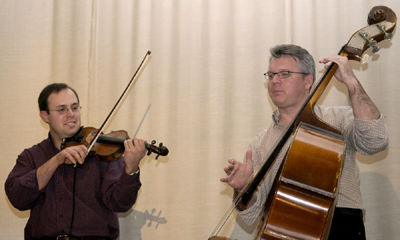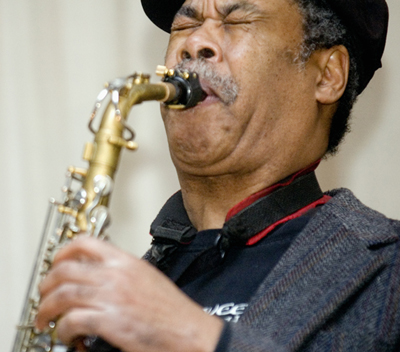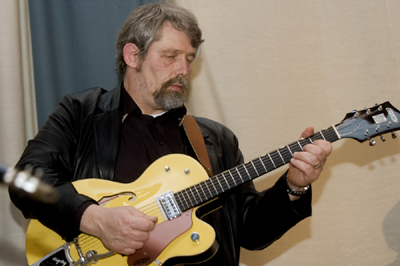 Lennon Orchestra show of Nov. 11
No River City show of October 28th
Local Talent Showcase / Open Stage event of September 23, 2006
Union Hall Theater gets a Baldwin grand piano
November 12, 2006 (updated November 30, 2006)
The Lennon Orchestra drew a standing ovation last night for their authentic, powerfully emotional renditions of favorite and obscure Beatles tunes.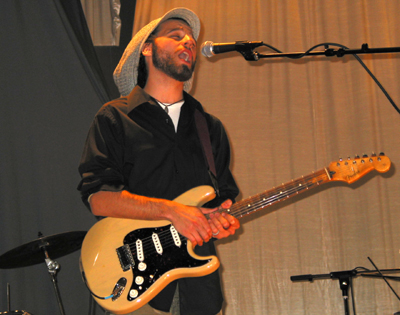 Moving effortlessly from intricately harmonized ballads to blues-powered rockers, the band showed their deep familiarity and fondness for songs by Lennon, McCartney and Harrison.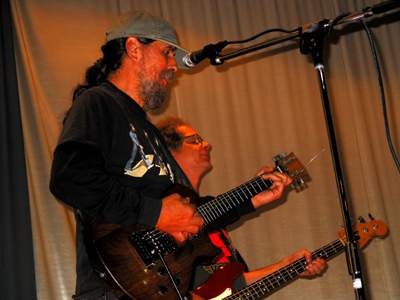 Beautiful vocals by Joey Hebdo, Kevin Shima, Junebug and Catfish were complemented by Catfish's virtuosic lead guitar and supported by the tight rhythm section of Dave Baer and Junebug. Kevin and Joey added depth with keyboard and rhythm guitar, respectively.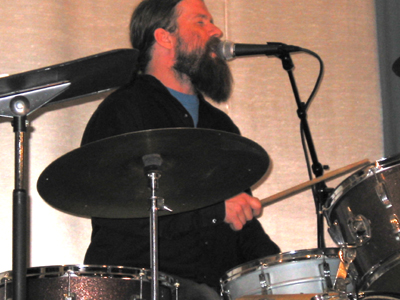 Highlights of the show included the opening Sgt. Pepper's Lonely Hearts Club Band, Fixing A Hole, While My Guitar Gently Weeps, Something In The Way She Moves, and Oh, Darling. But what really brought down the house was the finale: the medley from "side 2" (for those who remember vinyl) of Abbey Road.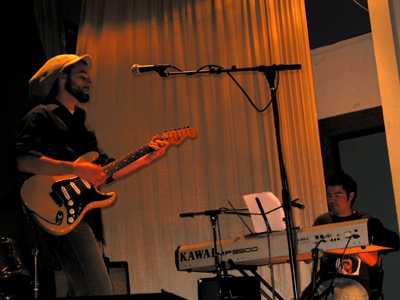 Whether you caught this show and want to hear more, or you missed it, you can catch these guys one more time this year at Lennonfest at the Union Bar & Grill in Athens on Dec 2nd. Click on Junebug's site above for details.
Atlanta's No River City gained some new fans last night as a result of their stellar performance at Union Hall Theater. It was twangy, funky, soulful, moving -- what more could we ask for? Even if you missed the show, you can still hear their music by following the links at www.norivercity.com (some content submitted by their fans may not be suitable for children). Hurry up and buy their excellent CD, This Is Our North Dakota, while copies are still available. And watch for a new CD and a new EP to issue soon. We look forward to their eventual return to Union Hall Theater.
Chesterhill was hopping on October 7th! The Chesterhill Harvest Festival included an all-day Farmers' Market, an arts and crafts show, craft demonstrations, a wonderful quilt show, antiques, food, pumpkin carving, children's activities, horse and buggy rides, and bingo sponsored by the Chesterhill Lions Club. All proceeds from the Festival benefited Union Hall Theater. Meanwhile, the Marion Fall Homecoming took place at the Chesterhill Community Center. Softball and basketball tournaments and a fund-raising auction were followed by a dance with the Crossroads Band rocking the house, country-style. Proceeds from the Homecoming will be used to provide a new heating system for the Community Center.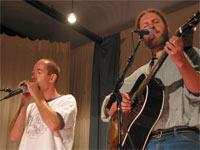 Last night's Local Talent Showcase / Open Stage was another big success for Union Hall Theater. An enthusiastic audience witnessed a truly outstanding array of talent.
To get the ball rolling, host John Wetzel was joined by Jonah Powell, making a brief return from his new home in Traverse City, MI. John and Jonah gave improvised renditions of tunes by Hank Williams, Little Feat, Willie Dixon, James Taylor and others on acoustic and electric guitars and harmonica.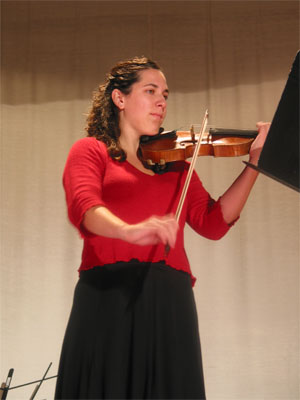 Next, we had a very special treat: Laura Geier and Angela Leising, both graduate students at the Ohio University School of Music, gave a stunning performance of six Romanian Folk Dances by Béla Bartok which had been transcribed for violin and piano. Laura and Angela's own obvious enjoyment spread quickly to the audience. It was not necessary to be knowledgeable of Classical music to appreciate the incredible control that these women had over their instruments and the highly accessible literature that they chose for us to hear.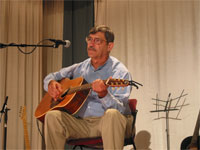 Bob Rothwell, with his deep baritone voice and precise guitar picking, entertained us next. From his large repertoire, he selected several bluesy songs with lyrics full of the wisdom, humor and spirituality that we have come to expect from Bob.
David Roberts of Bartlett gave the most authentic rendition of musical styles that one might most readily associate with Chesterhill.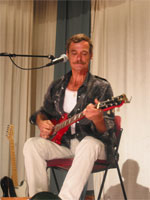 With smooth flat-picking and a beautiful, deep voice, he covered tunes by Merle Haggard, Hank Williams, Jr. and the like with the soulfulness that they deserve.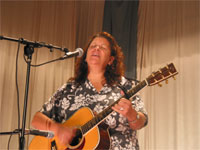 It was worth the wait to hear singer-songwriter Mari Purdum deliver six of her skillfully crafted songs toward the end of the evening. Her bubbly personality and lovely voice were nothing less than infectious. Her lyrics, drawn from a unique Asian-American (or is it Asian-American-Hillbilly?) cultural perspective and telling of extensive life experience, ranged from hilarious to deeply moving.
The next Local Talent Showcase / Open Stage event is scheduled for March 24, 2007.
A Baldwin grand piano is now on the stage at Union Hall Theater! This instrument will enable us to broaden our programming to include Classical concerts and recitals.
Renowned pianist, Professor Richard Syracuse will play a recital in Union Hall Theater to dedicate the new piano on April 15, 2007 at 4:00 pm.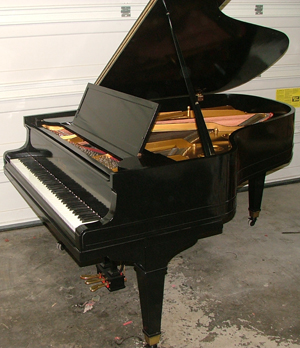 Details will be announced on this site. A graduate of the Julliard School of Music, Mr. Syracuse has won numerous competitions and awards, and toured extensively in the United States, Canada, Europe, Africa, and the Middle East.
The instrument was originally constructed in the 1930's in Cincinnati. Baldwin pianos of this vintage are highly regarded. It was completely refurbished in 2006 and is shown here just before leaving the re-builder's shop.